Securikey Key Cabinets
Key Vaults and Key Cabinets.
Our key vaults offer advanced key control, management and security to meet insurance company requirements, allowing them to be used for applications such as Estate Agents, Motor Dealerships, Hospitals and Care Homes.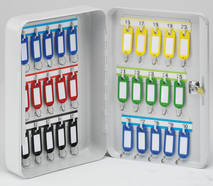 .
Whether you're looking for a simple key cabinet or a more advanced key issue and monitoring system, Securikey can offer a solution to meet most requirements. Suitable for domestic, commercial and light industrial applications, our key cabinets provide secure storage due to their incredibly robust design, as well as effective key management with the use of index cards, key tabs, rings and numbers in addition to more sophisticated key tracking options.
High Security Key Safes
Offering the ultimate in key control, these key safes are the ideal solution to safeguard against lost or stolen keys, even within high security commercial applications such as high-end Motor Dealers, Police Stations, Government Agencies and Banks.
Standard System Cabinets
Providing affordable and effective key control and protection, our standard system key cabinets are used in a wide variety of applications including Office Buildings, Schools and Universities.
Specialist Systems
Based on our standard key cabinet range, our specialist systems have been tailored to suit specific needs and are used in a huge variety of applications including Residential Properties, Offices, Entertainment Venues and Industrial Applications.
ALL SECURIKEY PRODUCTS CAN BE ORDERED DIRECTLY FROM OUR EBAY STORE AT:
http://stores.ebay.co.uk/Hawk-Industrial-Services
ALTERNATIVELY CONTACT US DIRECTLY AT: